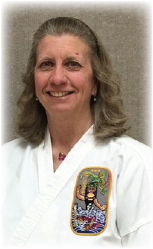 Ms. Chris, as she is known to her students, has taught Isshinryu Karate since 1992.
Chris is currently an 8th degree Master in Isshinryu. She has taught at several OKC schools and has attended numerous teaching and instructional seminars through the National Association of Martial Artists, and is certified by the Cooper's Institute. Chris co-owns Family Self Defense Center with her husband "Mr. Z" Szelap, an 8th degree Isshinryu Black Belt.
She invented the first ever Isshinryu History Board Game: "Vertical Punch", which is used as a study tool for her students. In 1994 and 1999 the International Isshinryu Hall of Fame Board chose Ms. Chris as one of the top 5 Female Instructors, in 2003 she was voted the Top Contributor to Isshinryu Karate, and received the same Contribution honor again in 2009 this time paired with Mr. Z. In 2010 and 2018, Ms. Chris was honored as Top Female Instructor of the year, and was honored in the top five in this category in 2011, 2012, 2013, 2015, 2016, and 2017. In 2014 Ms. Chris was nominated Top 5 internationally for Master Senseis and in 2017 and 2018 for Sensei of Senseis. In 2012, Ms. Chris became a charter member in the Midwest Women's Martial Arts Hall of Fame for Excellence.
Chris currently teaches with her husband, and attends local and national tournaments with her students. She received a BA degree from the University of Michigan in Ann Arbor in Child Psychology.