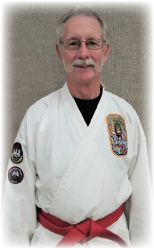 Ed, Mr. Z, Szelap has trained in the Martial Arts since 1977 and has taught since 1986.
Mr. Z currently holds the rank of 9th degree Grand Master Black Belt in Isshinryu and a 1st degree Black Belt in Tae Kwon Do. He has attended seminars by many noted Isshinryu Masters, and teaching seminars through the National Association of Professional Martial Artists. He has been certified by the nationally accredited Cooper's Institute. Master Z was inducted into the prestigious Isshinryu Masters Hall of Fame in July of 2016.  He is one of only 134 Masters selected from all over the world in the past 60 years to receive this honor.
In 1992 Ed started his own Isshinryu school, Family Self Defense Center, which he now co-owns with his wife Chris, a 8th degree Black Belt in Isshinryu.
In 1993, 1994 and 1997 Ed was chosen in the top five nationally for Male Instructors, receiving a #1 ranking in 2011. In 2012 and 2014, Ed was chosen the Top Master Sensei in the country. In 2002 Ed was chosen #1 for his "Isshinryu Spirit" by the Isshinryu Hall of Fame Board, and received top five honors in 2011 and 2015.  Master Z was inducted into the prestigious Isshinryu Hall of Fame in 2016.  His school, FSDC, was voted one of the top five Dojos in the country in 1999, 2002, 2009, 2010, 2011, 2012, 2013 and 2015, and also received the Most Outstanding Dojo Award in 2011, and Most Supportive Dojo in the country in 2012. In 2009, he and his wife Chris were selected as the Top Contributors in the Nation to Isshinryu Karate.
Ed currently teaches with his wife, and attends local and national tournaments with his students.